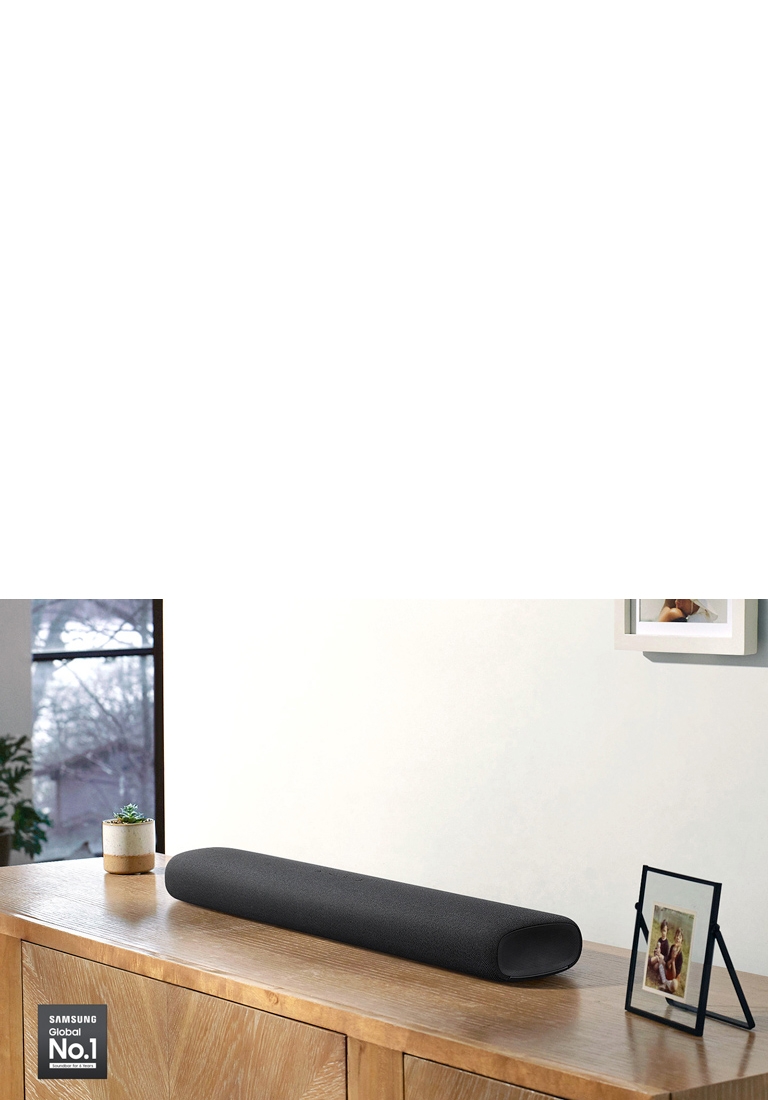 Fill your space with powerful sound
Be enthralled by wide range room filling sound. S60T surrounds you with powerful sound, all in one elegantly refined design.
* Images are simulated and for illustration purposes only. The appearance, design and GUI (Graphic User Interface) specifications which does not affect product performance, are subject to change without notice.
* TV sold separately.
* Applied years(2014-2019) ⓒ2020 Futuresource Consulting
Dolby Audio DTS Digital Surround
The captivating experience of Dolby Audio & DTS turns your living room into a theater. The advanced technology creates a surround sound experience, drawing you into the scene.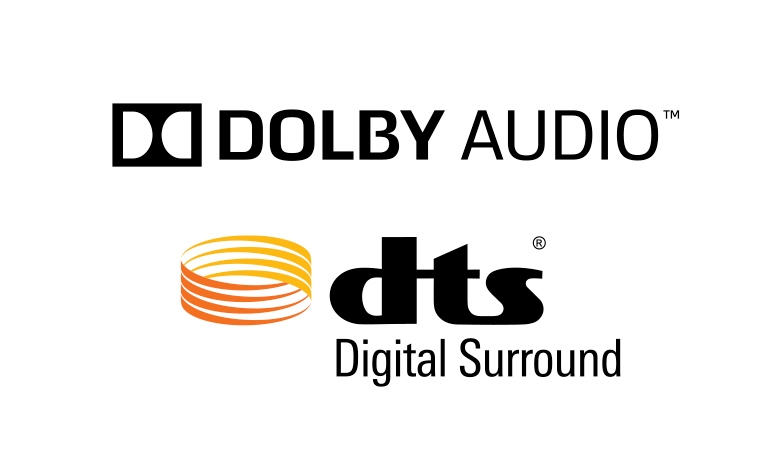 Side Horn Speaker w/ Samsung Acoustic Beam
The S60T Soundbar's double-sided horn speakers with Samsung Acoustic Beam technology captures every detail in your audio, giving you panoramic room-filling sound.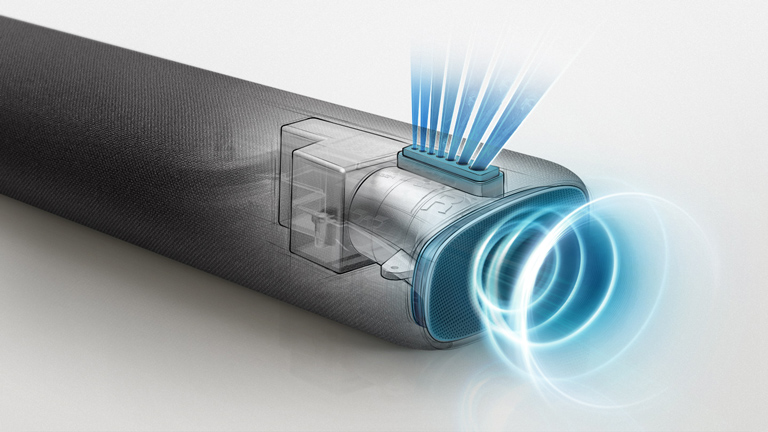 Room-filling sound,
All-in-one design
All-in-one
Everything you need, in a single soundbar. The all-in-one system has two woofers and tweeters built into its slender frame, so you can set  it anywhere in the room and enjoy a pure audio experience.
* Features may not be compatible with all Samsung TVs.
* Functions may vary by TV model.
* Function requires only wired connection to TV, not including wireless connection to TV.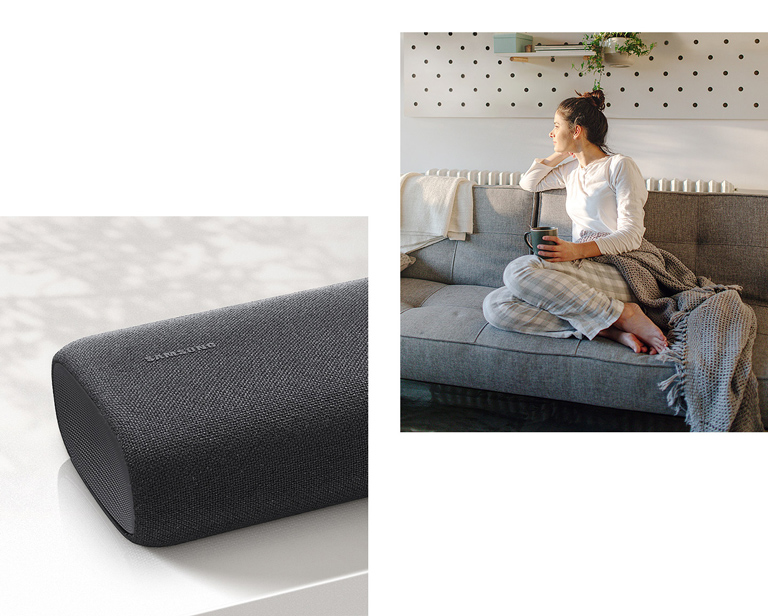 Craftsmanship beyond sound
Kvadrat Design
A sound system designed to be part of your home. The refined design features Kvadrat textiles and complements any interior with the perfect balance of style, cutting-edge technology and durability.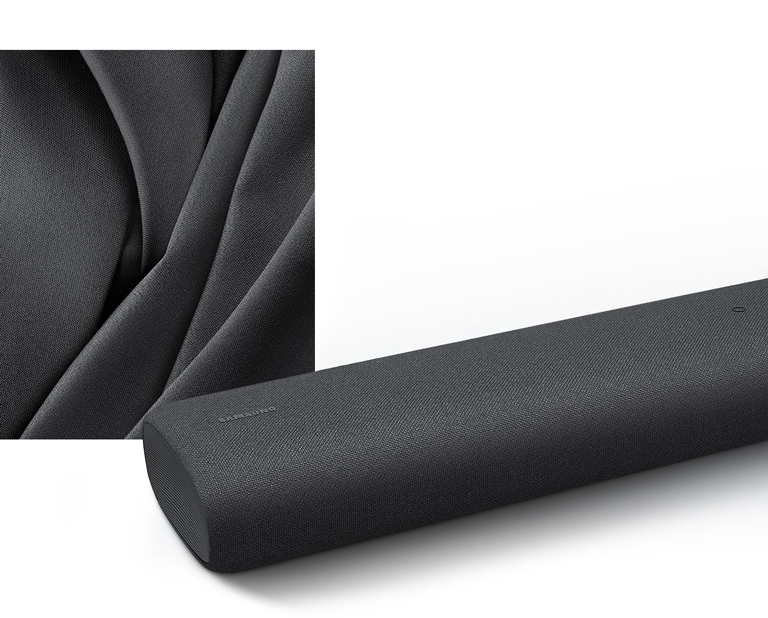 Music comes alive with your voice
Alexa Built-in Voice Assistant
Your soundbar comes with Alexa built-in. Enjoy all the things you know and love about Alexa, with the advantage of powerful, optimized sound from your soundbar.
* This service availability may vary by region/service provider/language.
* This service which is not affecting to product performance are subject to change without notice.
* Actual user experience may vary.
* Amazon, Alexa, and all related logos are trademarks of Amazon.com, Inc. or its affiliates.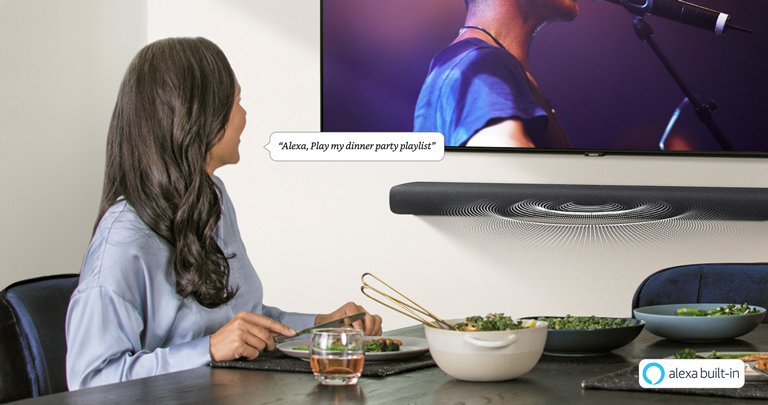 Music as it's meant to be heard
Music Mode
Hear your favorite music as the artists and producers intended. Music mode distinguishes the voices from the instruments to optimize clarity, matching the level of sound quality you get in recording studios.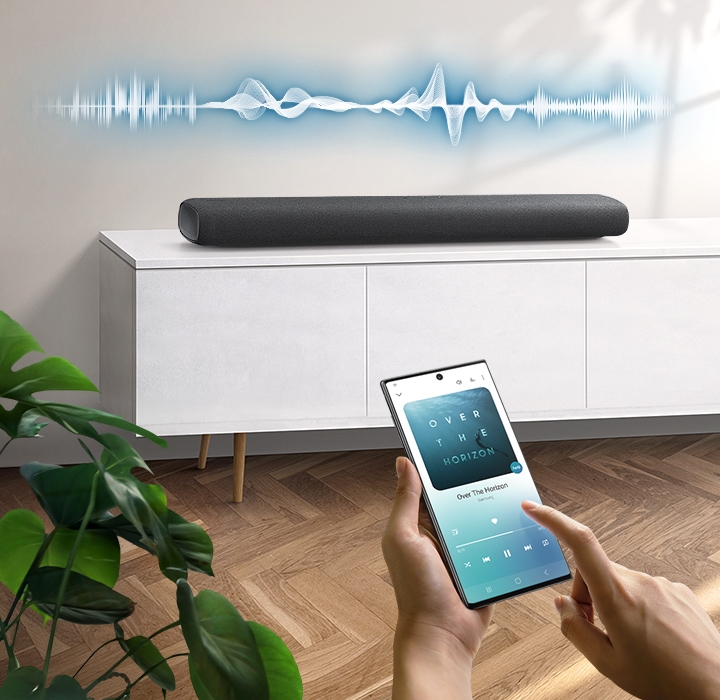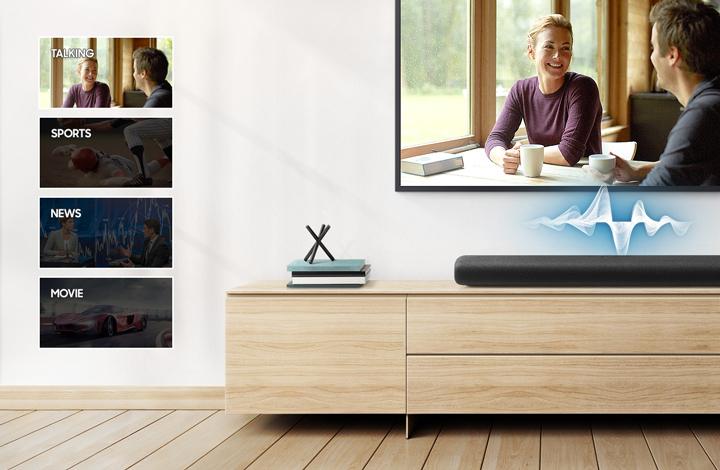 Sound optimized for each scene
Adaptive Sound
Soundbar S60T analyzes content to automatically deliver optimized sound based on each scene, so even speech at low volumes is clear and distinct.
More bass if you need it
Wireless deeper bass ready
The freedom to add extra bass without wires. Pair your soundbar to the SWA-W500 wireless subwoofer to feel the real depth of the music.
* Samsung Wireless Subwoofer sold separately. (Compatible accessory model: SWA-W500).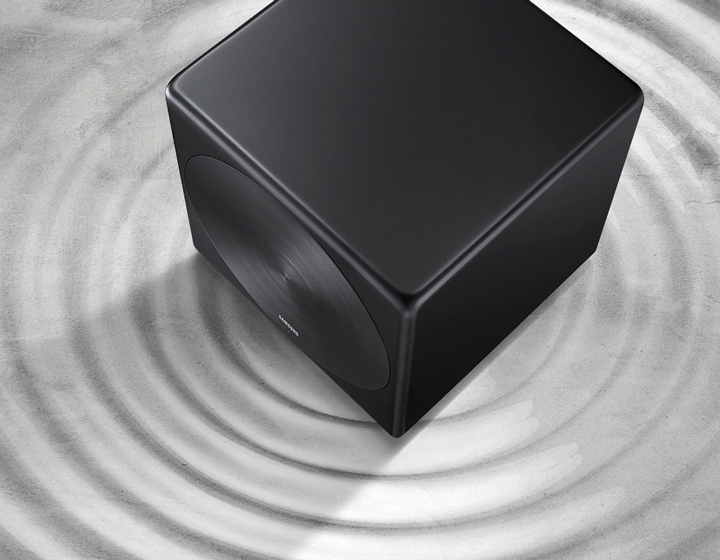 More sound without the wires
Wireless surround sound ready
The Wireless Surround Kit* lets you expand your soundbar to a complete surround sound system easily, without the mess and hassle of routing wires.
* Samsung Wireless Rear Speaker Kit sold separately. (Compatible accessory models: SWA-8500S & SWA-9100S).
** The wireless module requires a power cord to function and speaker cables to connect to rear speakers.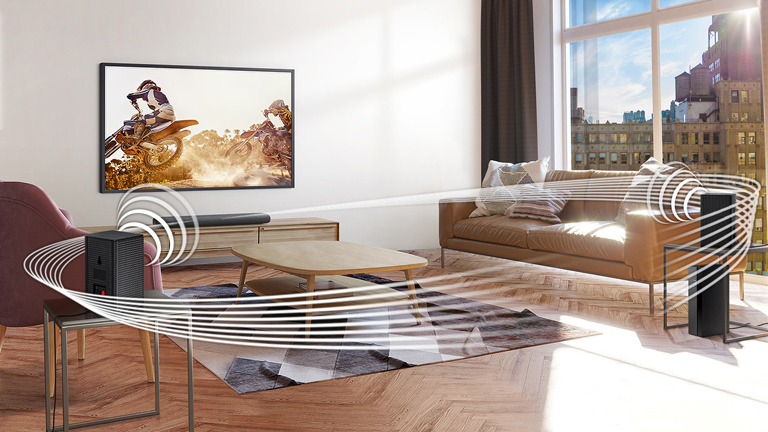 Bluetooth® multi connection
Connect two different smart devices at the same time so you can conveniently switch between devices.
* Soundbar mobile connection is not available when connected to the TV.
Bluetooth® TV connection
Connect via Bluetooth® and enjoy your favorite content without unsightly cables.
* Please check whether your TV is Bluetooth® compatible.
HDMI
Connect your devices via HDMI for a rich audio experience.
* Compatible devices only.
Wi-Fi Mobile Connectivity
Streaming music via Wi-Fi
Connect Samsung Soundbar to your TV and other devices wirelessly through Wi-Fi.  Enjoy music from your mobile device in top audio quality, with no strings attached.
*Compatible mobile device only.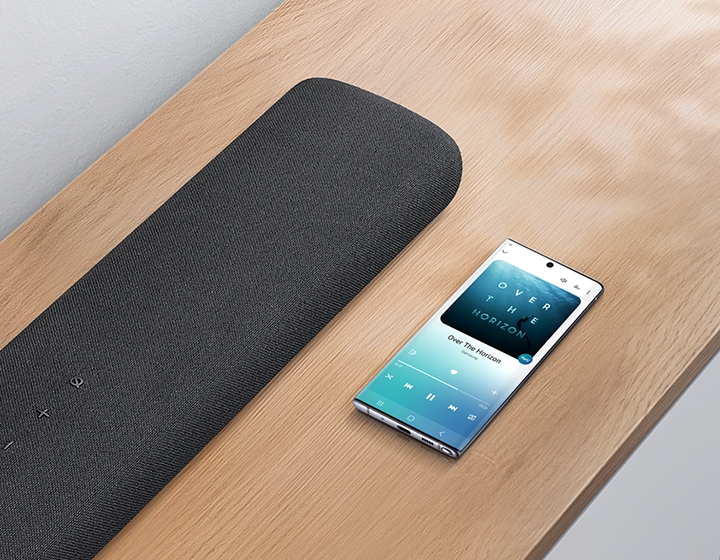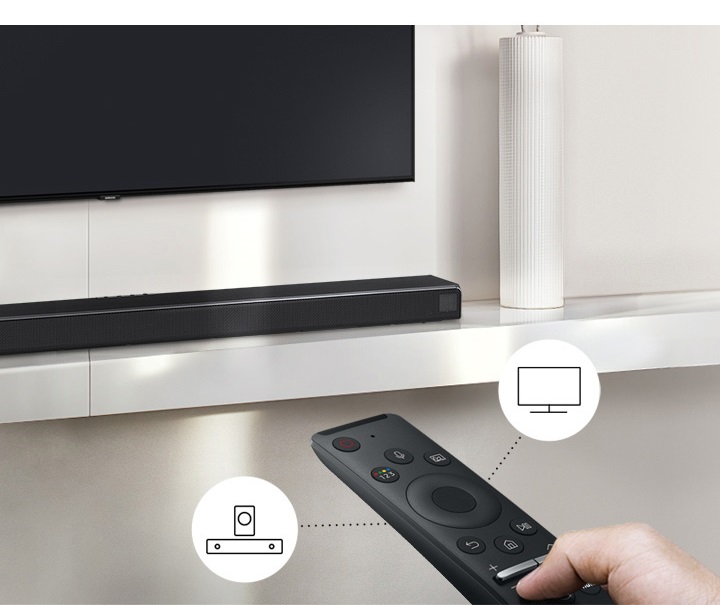 A world of sound with one remote
Samsung OneRemote
One remote is all you need. Control key soundbar functions like power, volume, and even sound effects with the Samsung TV remote.
* Function and remote control design may vary by TV model and region.
* Compatible with selected Samsung TVs. Please check the Samsung TV's specification
One app to listen smart
SmartThings App
Take connected living to the next level. SmartThings app lets you add your speakers to your network, giving you greater control over your audio throughout your smart home.
* Each device must be connected to Wi-Fi or other wireless network.
* Must download and install the SmartThings app.
* For interoperability through SmartThings, all the devices should be registered with a single Samsung Account.
* Available functions may vary by region, service provider, network environment, or mobile device, and are subject to change without notice.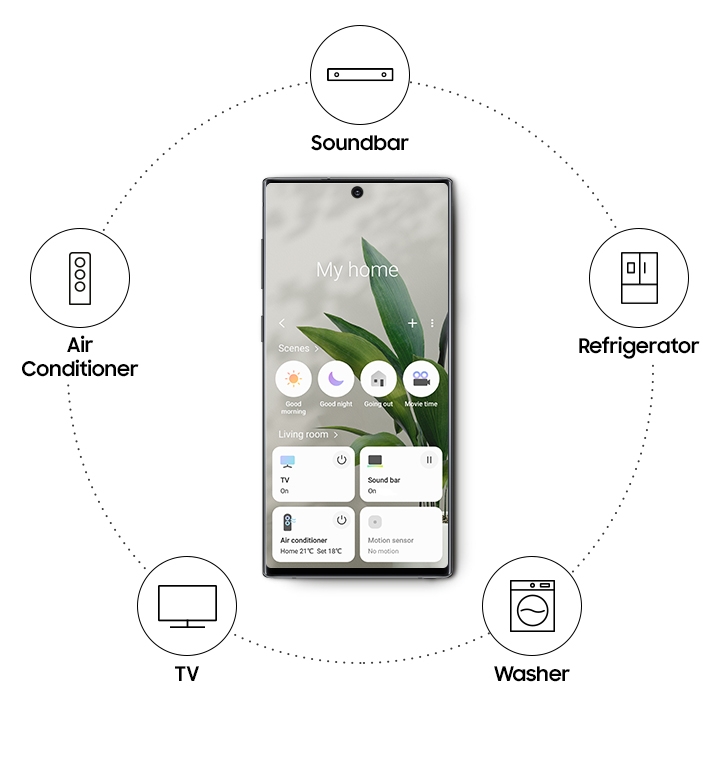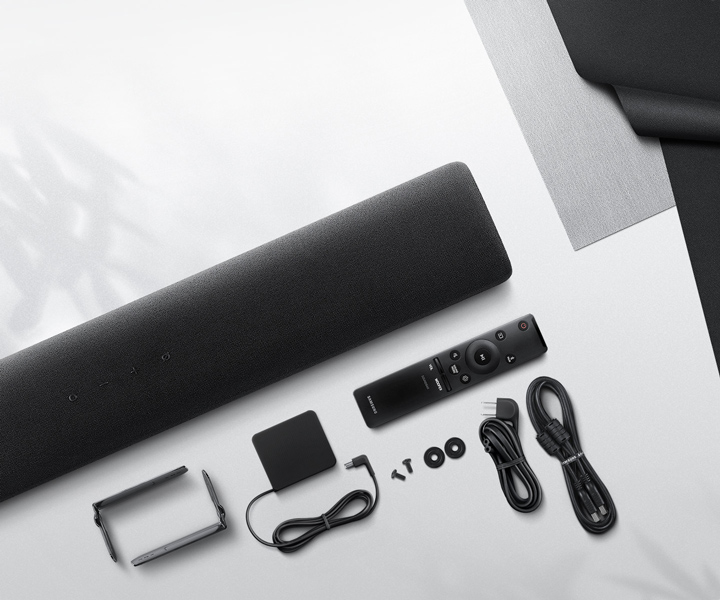 Get started with the essentials
What's in the box
Everything you need for easy installation is inside the box, including a convenient wall mounting kit.